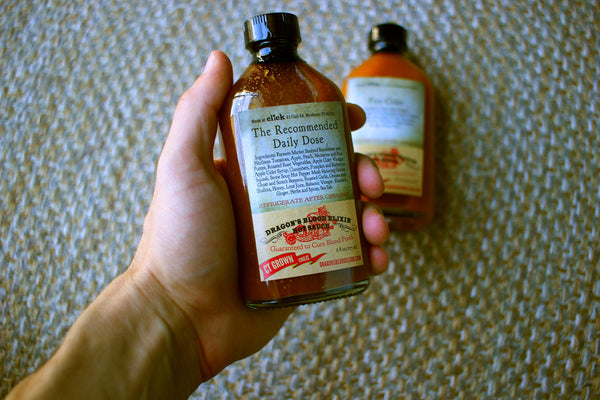 The Good for What Ails You Box
A positive attitude is essential to offset the current angst of uncertainty, in this lightness of spirit we offer the Good For What Ails You Box featuring the Recommended Daily Dose and Fire Cider.
The Recommended Daily Dose was originally scheduled to be one of the new sauces for the NYC Hot Sauce Expo, now rescheduled for September. This is a Stone Soup style sauce showcasing dozens of farmers market fruits and vegetables with a long lasting scorpion pepper sting.
The Fire Cider is folk medicine at its best, this one's got horseradish, ripe cayenne peppers, honey from Tir Nan Og Apiary, garlic and ginger and will certainly keep your sinuses open.
Both of these tonics are presented in very cool apothecary(ish) bottles with dosage markings- absolutely 'good for what ails you'. These are slightly larger bottles and you could get up to 40 'doses' in each one. We made 48 boxes of these, and they're going fast!
Recommended Daily Dose Ingredients: Farmers market sourced bumblebee and heirloom tomatoes, apple, peach, nectarine puree, pear puree, roasted root vegetables, apple cider vinegar, apple cider syrup, cucumbers, pumpkin and butternut squash, Stone Soup Hot Pepper Mash featuring Golden Ghost and Scotch Bonnets, roasted garlic, onions, shallots, honey, lime juice, balsamic vinegar, rhubarb, ginger, herbs & spices, sea salt

Fire Cider Ingredients: Apple cider vinegar, pear puree, apple puree, ripe red cayenne peppers, horseradish, honey from Tir Nan Og Apiary, roasted garlic, CT Grown ginger, spices, sea salt, coconut flour